On this weeks
#ThrowbackThrusday
we have a dirty talking, dominant, controlling uber Alpha male who also happens to be, hold your breath ladies, A COP. Protecting what's his by
Tessa Bailey
was short sexy and a entertaining read which totally rocked my world! Go get your brazen fix now!!
Title:
Protecting What's His
Author:
Tessa Bailey
Series:
Line of Duty
Genre:
contemporary romance, erotica

A sexy category romance from Entangled's Brazen imprint...

She's running from the law, and the law wants her bad.

The opportunity was just too damn delicious for Ginger Peet to pass up. The purse full of money she finds—$50,000 to be exact—could give her and her teen sister the new start they need. So she grabs the cash, her gothy sibling, and their life-sized statue of Dolly Parton, and blows outta Nashville in a cloud of dust. Chicago, here we come...

Turns out, Chicago has some pretty hot cops. Hot, intense, naughty-lookin' cops like Derek Tyler, who looks like he could eat a girl up and leave her begging for more. And more. Tempting as he is, getting involved with the sexy homicide lieutenant next door poses a teensy problem for a gal who's on the lam. But one thing is certain—Derek's onto her, and he wants more than just a taste.

And as far as he's concerned, possession is nine-tenths of the law.

Amazon US | Amazon UK



SANDY'S REVIEW
Protecting What's His
by
Tessa Bailey
My rating:
5 of 5 stars
Ginger quickly realizes three things.
"One: she'd completely underestimated the effect Derek had on her. Two: He'd somehow stolen the phone numbers from her back pocket without her knowledge. Three: she needed a vibrator. A powerful one."
He walks and breaths of sensuality, his physical traits are enough to burn down every piece of clothing you're wearing and every time he is in the scene this is what happens to me
Derek
is smoking hot tattooed, foul mouthed cop who loves his job and doesn't do relationship's until Ginger moves into the apartment across him. Boy oh boy! The minute they laid eyes on each other all they want to do is rip off other's clothes and fuck the hell out of each other.
"Listen to me, baby. From the time we walk in the door to my apartment, you will have less than a minute before I put cock inside you. No foreplay. No kissing. There won't be any time, because you've got me strung so damn tight I can barely think straight. I need you to keep yourself wet for me on the ride home. Starting now."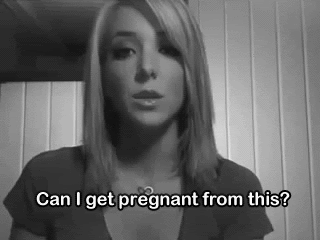 I loved
Ginger
(foul mouthed as well!)- smart, strong willed, perceptive, funny and compassionate who leaves behind her horrendous past and moves to Chicago with her sister Willa to start fresh and wants her sister to have a better life what their mother couldn't provide. But her only fear is not become like her mother that's the reason she never got involved with anyone.
What started as sexual attraction between Derek and Ginger soon changes when he learns about her past, he becomes considerate, possessive and a control freak and wants to protect her from her past, whereas Ginger who never depended on anyone wants Derek to soothe her, hold her , love her and both wants to be with other and that's how their love blooms.
Oh wait! I totally forgot about
Willa
- she is tomboyish, sassy and I love that mouth of hers
*winks*
"Mommy and Daddy!" Willa called from the hallway. "Zip up your pants and open the door."